Set, track, and measure key metrics to see how your practice is traveling towards meeting its business targets

A simple target measurement solution
Cubiko's intuitive target management enables you to set better goals and targets so you can focus on running a great practice

A better way of hitting targets
Streamlined target setting, so you can save time on managing your practices financial and utilisation goals
Visualise targets for your team
Look at the data that matters, simplify important targets down to easily digestible metrics for your team.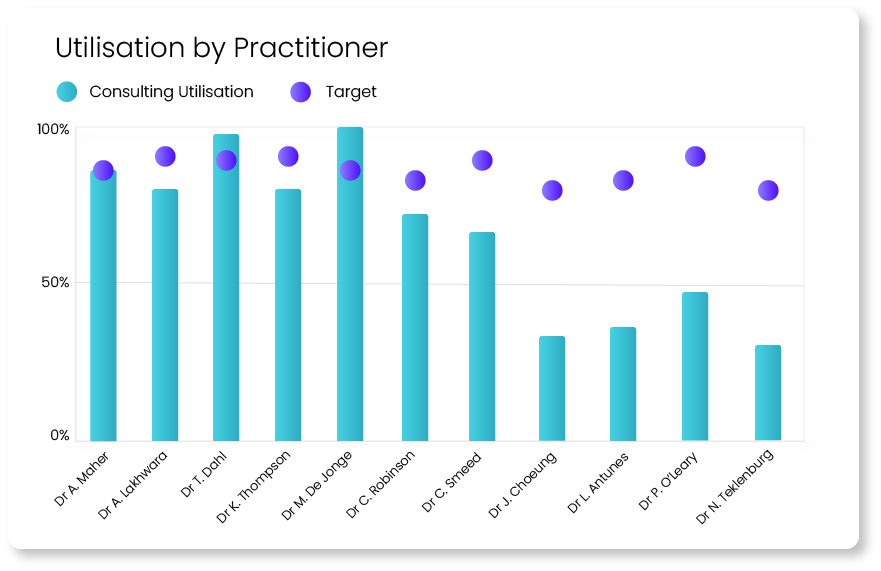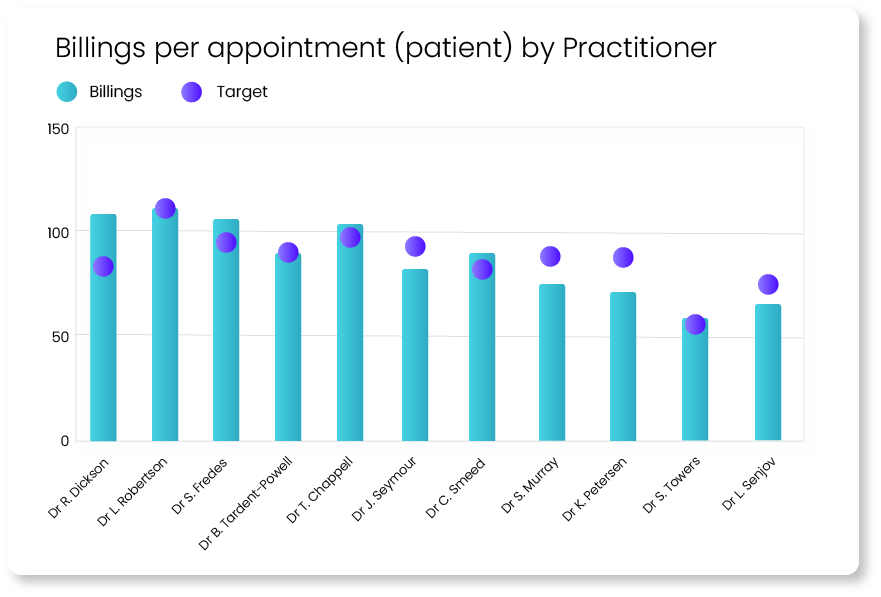 Track the important goals required for accreditation
Simplify your RACGP accreditation with Cubiko. Planning and setting business goals and targets are imperative for good business, and forms part of the Core Module for RACGP accreditation standards.
Optimise your practice's target tracking today
More great features from Cubiko
Everything you need to reduce the stress in running a practice
Trusted, reliable, loved by practices
Hear what your colleagues in the industry have to say
It's fast, it is accurate and it provides information that is relevant and useful in day-to-day managing of clinics.
Margo Hayes
Practice Manager at MoleChex
With Cubiko Assist's featured metric, we were able to find an additional $7,000 in billings which we otherwise may not have been aware was available.
Michelle Chuang
Practice manager at Sydney Doctors
Cubiko has freed up my time to actually act and engage with my clinicians and staff with objective evidence in hand and focused strategies in mind.
Greg Davies
CEO Shoalhaven Family Medical Centres
Cubiko provides awesome data and analytics for GP clinics from a proactive and agile team.
Dr Sean Stevens
Practice Owner at Next Practice Victoria Park
Never before has it been more important to get a full picture of your practice. Cubiko and Surgical Partners take care of all the financial metrics crucial for our practice. This allows us to focus more on patient care without having to stress over the financials.
Tracey Johnson
CEO Inala Primary Care
Over the years I have loved using both Cubiko and Surgical Partners. To have them partner together to drive financial and practice insights for my practice on a single platform will save me a lot of time and be incredibly rewarding.
Tara Welsh
Practice Manager at CHC Medical