How much does a GP earn in Australia
Cubiko has analysed industry trends from Touchstone to bring the most up to date data for how much a GP earns in Australia. Our methodology involves General Practices across Australia. Our customers can choose to opt-in their practices financial and business data into a de-identified aggregated data set. 
From that data set, we have collated the average General Practitioner billings per hour and our knowledge of doctor disbursements across Australia to find out how much an average General Practitioner earns in an hour. With this calculation, we provide some assumptions as to the average General Practitioner and what they work over a year on consulting hours, which is hours with a patient, to come to a gross billings number over a year, and minus the practice fee, an indication to income. Income for that General Practitioner is how much the average GP earns in Australia.
Deciding whether a career as a General Practitioner is right for you? The RACGP has great resources addressing this.
Average General Practitioner billings per hour
Cubiko calculates Billings per hour for General Practitioners by analysing their total billings divided by their Cubiko consulting hours. Consulting hours is their total time spent with patients, which doesn't include any Did Not Attends (DNAs), non-patient facing appointments or unbooked hours. 
The average General Practitioner billings per hour across Australia from the Touchstone data set is $308 per hour.  This is slightly higher in states such as Western Australia and Victoria, the average in Queensland and NSW, but lower in South Australia and Tasmania. The Northern Territory and ACT weren't included in the data set at time of writing.

Stay up to date with the latest in Cubiko industry benchmarks straight from Touchstone
How much does a GP earn per hour?
We know that a General Practitioner billings on average is $308 per hour. From our understanding of the industry, a 70% service fee is becoming the norm. That is the practice charges the contractor General Practitioner a 30% practice fee, meaning the General Practitioner contractor takes home in income, 70% of their total billings. That is 70% of the previous $308 per hour. Meaning, an average General Practitioner in the Touchstone data set takes home $215 per hour in income.
How much a GP will earn in Australia across a year?
We will need to make further assumptions regarding what an average General Practitioner may work in a year. But our Touchstone data set specifies the average GP will do 34 hours per week in consulting hours. Note, consulting hours is not the total time spent working, but more so the total time spent with patients. Let's say that an average General Practitioner works 46 weeks per year, meaning they take 6 weeks off from work, commonly over Christmas and the new year. That leaves 1,564 hours per year in consulting hours. 
With 1,564 hours, and $215 per hour in income, that equates to an average GP earning $336,260 in a year.
GP earning considerations
There are variables to consider when looking at what the average General Practitioner will earn in a year. This includes variables above that were used in the calculations, such as:
How many weeks a GP works in a year
How many hours a GP spends with patients a week
The practice fee negotiated with a GP
Services the GP provides, and how many patients they see will heavily impact the average billings per hour 
Excluding our calculations, we also note the variable that can affect how much a GP will earn in Australia is dependant on the type of practice. This includes:
Billing mode (mixed vs bulk-billing)
Administration support
Clinical support (e.g. nursing staff & allied health)
The utilisation of a GP's appointment book (how many patients they see)
From our Touchstone date set, as mentioned the average billings per year for GP is $336,260 across Australia. This differs slightly between mixed billing and bulk-billing practices. A mixed billing GP in Australia on average bills $342,516 per year, whereas a bulk-billing GP on average bills $331,568 per year. It is important to note that our data has found that there is a stark contrast in how many patients the average GP in a bulk-billing practice sees compared to mixed billing practices.
Want to know more? Watch our webinar recording: 
Introducing Touchstone.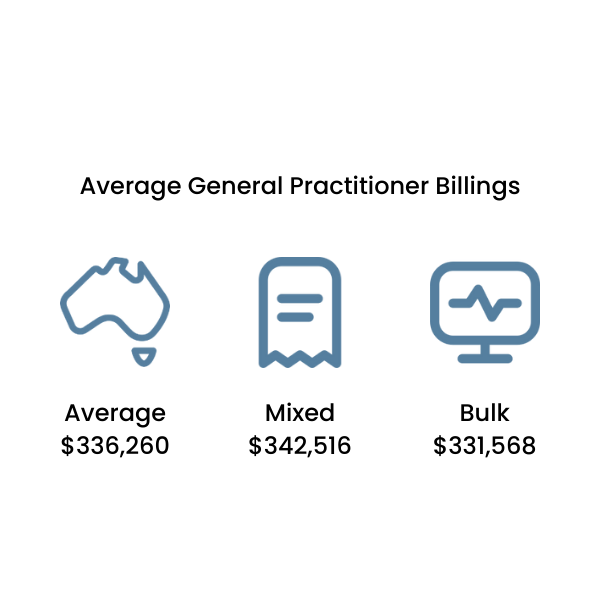 Above we have noted considerations in our calculations as well as specific variables at the practice level. There are however further GP earning considerations the GP can be in control of. The vast majority of General Practitioners across Australia are contractors. That is they are not employed by the practice, although there has been recent controversy around payroll tax implications and the incorrect definition of an employee vs contractor. This article won't go into this as it has been covered by others at length.
The key considerations of a General Practitioner for lifestyle are:
How many hours do you want to work?
What type of services and care do you want to provide your patients?
What type of practice do you want to work at?
Trusted, reliable, loved by practices
Hear what your colleagues in the industry have to say
It's fast, it is accurate and it provides information that is relevant and useful in day-to-day managing of clinics.
Margo Hayes
Practice Manager at MoleChex
With Cubiko Assist's featured metric, we were able to find an additional $7,000 in billings which we otherwise may not have been aware was available.
Michelle Chuang
Practice manager at Sydney Doctors
Cubiko has freed up my time to actually act and engage with my clinicians and staff with objective evidence in hand and focused strategies in mind.
Greg Davies
CEO Shoalhaven Family Medical Centres
Cubiko provides awesome data and analytics for GP clinics from a proactive and agile team.
Dr Sean Stevens
Practice Owner at Next Practice Victoria Park
Never before has it been more important to get a full picture of your practice. Cubiko and Surgical Partners take care of all the financial metrics crucial for our practice. This allows us to focus more on patient care without having to stress over the financials.
Tracey Johnson
CEO Inala Primary Care
Over the years I have loved using both Cubiko and Surgical Partners. To have them partner together to drive financial and practice insights for my practice on a single platform will save me a lot of time and be incredibly rewarding.
Tara Welsh
Practice Manager at CHC Medical