General Practice Benchmarking
The GP benchmarking tool the entire industry has been waiting for
Unlock your practices full potential with Touchstone
Quickly see how your practice performs compared to your peers and identify the areas you succeed in. Touchtone enables you to compare key practice metrics against real-time benchmarks.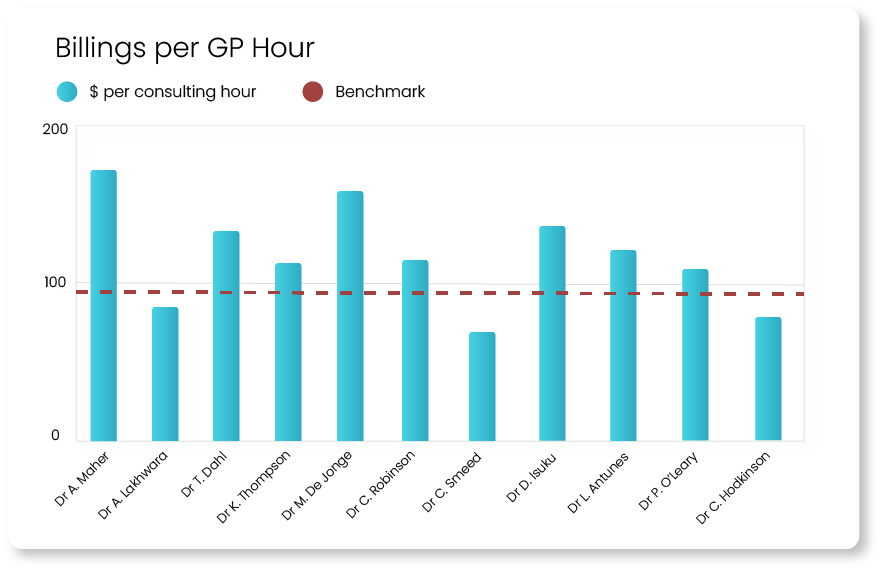 How do your billings compare?
Gain unmatched visibility into your billings across like-for-like practices. See where you can focus your efforts to improve practice performance.
See how your practice stacks up
Deliver outstanding patient care
Industry standard measures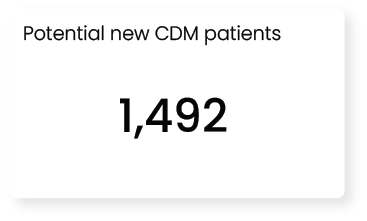 Comparisons that make sense
A few of the reasons why a growing number of practices are choosing Cubiko
Hundreds of practices rely on Cubiko's actionable insights to provide great patient care and achieve business goals.
Be certain in your data. Cubiko boasts a 99.9% uptime, ensuring you're never left in the dark about your operations.
Trust is a must, especially when it comes to patient data. That's why Cubiko take steps to ensure all data handled is kept safe and secure.
Gain insight with Touchstone
Compare and contrast your practice across industry standards
Trusted, reliable, loved by practices
Hear what your colleagues in the industry have to say
It's fast, it is accurate and it provides information that is relevant and useful in day-to-day managing of clinics.
Margo Hayes
Practice Manager at MoleChex
With Cubiko Assist's featured metric, we were able to find an additional $7,000 in billings which we otherwise may not have been aware was available.
Michelle Chuang
Practice manager at Sydney Doctors
Cubiko has freed up my time to actually act and engage with my clinicians and staff with objective evidence in hand and focused strategies in mind.
Greg Davies
CEO Shoalhaven Family Medical Centres
Cubiko provides awesome data and analytics for GP clinics from a proactive and agile team.
Dr Sean Stevens
Practice Owner at Next Practice Victoria Park
Never before has it been more important to get a full picture of your practice. Cubiko and Surgical Partners take care of all the financial metrics crucial for our practice. This allows us to focus more on patient care without having to stress over the financials.
Tracey Johnson
CEO Inala Primary Care
Over the years I have loved using both Cubiko and Surgical Partners. To have them partner together to drive financial and practice insights for my practice on a single platform will save me a lot of time and be incredibly rewarding.
Tara Welsh
Practice Manager at CHC Medical
Frequently Asked Questions
What is "Touchstone"?
Touchstone is a Cubiko feature which allows practices to benchmark and compare their practice's data to a de-identified aggregated data set. It is purely opt-in for medical practices, and by opting-in, practices receive the benefits of comparison to the de-identified aggregate data set.
Is my data safe, secure and unidentifiable?
Yes. Your data is stored within Australian data centres and is subject to Australia's rigorous privacy laws. We take significant additional measures in respect to personal information shared with us by our medical practice clients for the purpose of providing our analysis services to them. We use industry-leading encryption technologies to protect data during communication/transit and at rest. We use access controls and audit records (among other security tools and technologies) to protect the data held and processed by us.
The data within Touchstone is completely unidentifiable. As soon as the data is ingested it is de-identified and then added to the aggregated data set within Cubiko.  
Who owns the data?
Your practice retains ownership of the data and Cubiko is a custodian of the de-identified aggregate data set. If a practice opts-in to Touchstone, then at any time they are able to opt-out. In opting-out, no future data will be added to the de-identified aggregate data set.
How do I opt-in?
Cubiko customers can opt-in to Touchstone via Cubiko Settings. When doing so you have the ability to select your practice categories. The user opting-in to Touchstone must have the required permissions to opt-in a practice to Touchstone.
How much does Touchstone cost?
Touchstone is included in your standard Cubiko subscription if you opt-in your data to the de-identified aggregate Touchstone dataset.
How is Cubiko managing clinical data with regards to Touchstone?
Touchstone does not use or processes any of your practice's clinical data. Meaning this stays in your separate Cubiko instance or on your practice's server.
What happens to my data if I opt-out?
We will cease system and practice data ingestion to any aggregated benchmarking metrics within 14 days notice. However, historical ingestion to aggregated benchmarking metrics are unidentifiable and unable to be deleted. 
Does Cubiko de-identify practice data?
Yes. If you opt-in your practice's data to Touchstone, the data is completely de-identified.
What techniques does Cubiko apply to maintain practice confidentiality with Touchstone?
As aligned to Federal government recommendations, Cubiko applies frequency and cell dominance rules, data suppression and data rounding. Cubiko adheres to our Data Governance Framework and our Benchmarking De-identifying Policy. This includes practice level anonymisation, the separate database of consolidated practice data is anonymised before being made available to other practices who have opted-in. If ever does a de-identified data set become small enough to be identified, Touchstone does not show results specifying so.
Cubiko does not share any of the de-idenfitied aggregated indexed performance metrics for commercial reasons with 3rd Parties. Some de-identified data sets are available to 3rd Party community members, and certified partners of Cubiko for research and content generation purposes.
Does Cubiko have a Data Governance Framework?