What is a GP Management Plan (GPMP)?
Chronic conditions are increasingly common in Australia. Across local areas, 34-50% of GP consultations involve the active management of one or more chronic conditions. Chronic diseases are long-lasting and the consequences of such often impact a patient's quality of life. Making the management of these conditions more important than ever.   
This adds strain on general practices, who are often the first point of contact in the medical profession, and often play a key role in the early diagnosis and care of these patients.  
But what are the first steps in your patient's health care journey? What does the care for these patients look like? Who at your practice is responsible for what during your patient's health care journey? 
Once diagnosed with a chronic disease the patient is booked in for a GP management plan and potentially a team care arrangement.  
What is a GP Management Plan (GPMP)?
A GP Management Plan (GPMP) is a management plan for a chronic condition that has lasted 6 months and/or is likely to last 6 months or longer. A GPMP session usually consists of a nurse or a doctor getting a detailed review of a patient's lifestyle and insight into what could potentially impact their quality of life. In this session, doctors will set goals and targets for their patients. These goals and targets are communicated to the patient, so they are fully aware of the goals they need to achieve.  
The GPMP (item 721) can only be billed once every 12 months. But, it's common for a doctor and/or a nurse to do a review of this plan every 3-6 months. This is dependent on how much monitoring the patient may need and what condition the management plan was created for.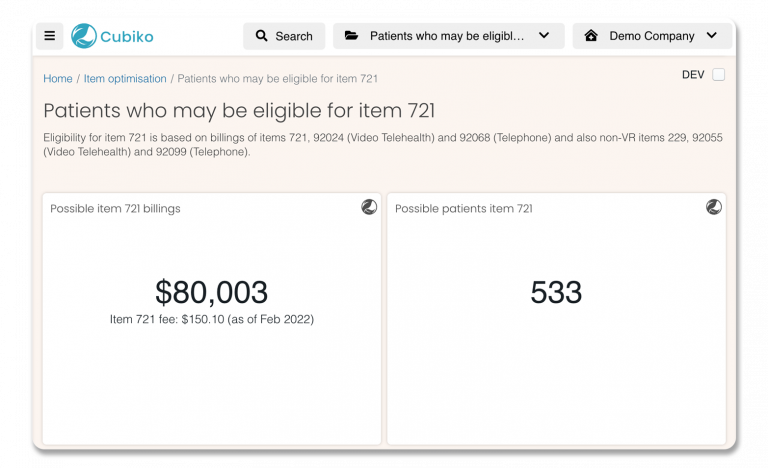 Cubiko's Item Optimisation cabinet provides lists of patients who may be eligible for 721, 10997, and many other CDM item numbers.
What is a Team Care Arrangement (TCA)?
If you determine that your patient could benefit from being treated by a specialist or an allied health professional, a TCA (item 723) can be completed. These providers become part of your patient's care plan. Your patient is eligible for 5 visits per calendar year when treated by two or more health care providers, with the Medicare rebate. 
As the GP in charge, you are responsible for the coordination and development of your patients TCA. You're responsible for preparing a document that details your patients: 
Treatment and service goals

 

The treatments and services that collaborating providers will provide

 

Actions to be taken by your patient

 

Arrangements to review (1), (2) and (3) by a date specified in the document. 

 
Allied health providers are required to provide a written report to the referring GP after the completion of the first and last service. The written report should include any investigations, tests and/or assessments carried out on the patients, any treatment provided and future management of the patient's condition.  
Want to learn more about how Cubiko can help you increase CDM billings?
Which of my patients are eligible for a GPMP?
To be eligible a GP needs to determine if a patient is suffering from a chronic disease that has lasted 6 months and/or is likely to last 6 months or longer. This includes chronic diseases such as cancer, diabetes (type 1 and 2), asthma, arthritis, chronic pain and more. 
Cubiko's item optimisation cabinet looks at your billing history to help you identify which of your patient's may be eligible for item 721. The item 721 metric outlines the possible billings that your practice could make from patients who may be eligible, the number of potentially eligible patients and a list containing these patient details.  
Who at my practice should be responsible for conducting GPMP's?
Effective chronic disease management usually requires a multi-disciplinary team-based approach. Maximise efficiencies by involving your nurses and practice managers in patient care. This helps improve patient care and helps to reduce your GP's workload.  
Nurses in your practice can be responsible for: 
The organisation of the chronic disease management systems and the processes used within your practice.

 

Using data to identify patients who may be eligible for a GPMP.

 

Getting a detailed review of a patient's history. 

 

Preparing or reviewing a GPMP on behalf of the doctor.

 

Assisting with the care of patients under the GP's supervision.

 
 Practice managers and reception can be responsible for: 
The development of your practices CDM governance framework, policies and procedures.

 

Overseeing the practices CDM operational process. This includes clinic services, team member responsibilities, appointment structure and reminders.

 

Reviewing and analysing the practice's CDM activity. Including clinical outcomes, billing and opportunities for improvement. 

 
If you're interested in using Cubiko to help you with Chronic Disease Management in your practice and would like to learn more – book in for a demo today.  
Want to understand more about how Cubiko helps your practice? Book in for an online demonstration.
Trusted, reliable, loved by practices
Hear what your colleagues in the industry have to say
It's fast, it is accurate and it provides information that is relevant and useful in day-to-day managing of clinics.
Margo Hayes
Practice Manager at MoleChex
With Cubiko Assist's featured metric, we were able to find an additional $7,000 in billings which we otherwise may not have been aware was available.
Michelle Chuang
Practice manager at Sydney Doctors
Cubiko has freed up my time to actually act and engage with my clinicians and staff with objective evidence in hand and focused strategies in mind.
Greg Davies
CEO Shoalhaven Family Medical Centres
Cubiko provides awesome data and analytics for GP clinics from a proactive and agile team.
Dr Sean Stevens
Practice Owner at Next Practice Victoria Park
Never before has it been more important to get a full picture of your practice. Cubiko and Surgical Partners take care of all the financial metrics crucial for our practice. This allows us to focus more on patient care without having to stress over the financials.
Tracey Johnson
CEO Inala Primary Care
Over the years I have loved using both Cubiko and Surgical Partners. To have them partner together to drive financial and practice insights for my practice on a single platform will save me a lot of time and be incredibly rewarding.
Tara Welsh
Practice Manager at CHC Medical