Is the COVID-19 vaccine right for my practice?
The government has confirmed the new COVID-19 vaccine item numbers. With this confirmation, we ask ourselves: Is the COVID-19 vaccine right for my practice?
Let's jump into this question to understand the financial, staff, and community impacts of the COVID-19 vaccine in your practice.
The RACGP has come out stating that the financial benefits of the COVID-19 can stand to receive between $65 and $74.90 for each fully vaccinated patient.
GPs in MMM1 areas will be able to claim a Level A attendance and a double bulk-billing incentive item (totalling $30.75) for delivering the first dose of the AstraZeneca/Oxford vaccine, along with a Level A and standard bulk-billing incentive for the second ($24.25).
Those in MMM2-7 areas will receive $37.35 for the first dose and $27.55 for the second, while all practices are eligible to receive an additional $10 Practice Incentive Payment (PIP) for patients who receive both doses at the same clinic.
In understanding the financial benefits. A major question remains.
Potential costs of administering the vaccine
Calculating what-if costs to a potential scenario is difficult, can be complex and not always accurate. To help the medical practice industry, Chris (our CEO and Co-Founder) worked with some industry leaders from Surgical Partners and Medical Business Services to create a free download, the COVAX Feasibility Tool in order to help practices calculate some of these costs. 
We have put together a list of costs together from years of managing a practice. They are:
Clinic wages costs
Doctor distributions
Opportunity cost from not doing other activities
Potential percentage loss of income while running COVID-19 Vaccines
Related planning costs
Policies/procedures and costs to update
Insurance
Vaccine fridge and other related infrastructure
Staff meetings
Recruitment
Training Costs
It's important when measuring the cost-effectiveness of the COVID-19 vaccine in your practice to measure the true cost of the vaccine.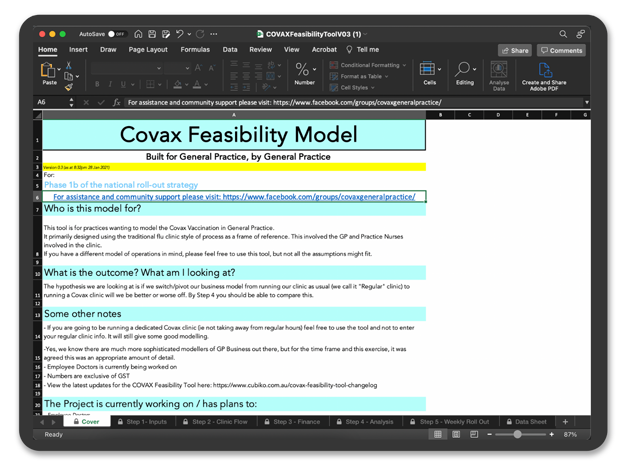 We've created a free tool for medical practices to analyse whether the COVID-19 vaccine is the right decision for their business.
Australia is looking forward to the COVID-19 vaccine. Medical staff on the front-line have a direct role in this important national project.
Now, more than ever, do you need to make sure you measure and look to manage the impact of doing the COVID-19 vaccine in your practice. And how that affects your staff.
Your staff will be exhausted and worked off their feet. It will be gratifying at times, but you must look out for your staff's mental wellbeing during the stress that is a national vaccine rollout.
There is one simple fact your doctors will need to come to grips with. 
Doctors may earn less per hour
It isn't easy to know for certain. Analysing the early numbers of the vaccine rebates from the Department of Health, it is likely that the COVID-19 vaccine won't be lucrative. Then again, we're not in the business of being lucrative in the medical industry. I wanted to highlight this as an impact on your staff and contractors. 
If you're looking to change the split of doctor pays or reimbursements compared to the practice share during this time, I recommend you look at Surgical Partners. They also helped us build the COVAX Feasibility Tool.
We will likely experience workforce shortages across our nursing, medical and administrative staff during the COVID-19 vaccine rollout. 
I recommend you get on top of this early. If you decide to do the COVID-19 vaccine in your practice. Start hiring, yesterday.
To answer the question, Is the COVID-19 vaccine right for my practice? We need to look at the most important part of our practice, the community. 
With an estimated 80% uptake of the COVID-19 vaccine. There will be many of your patients and new patients who will need a vaccine from your practice. 
It's important to estimate the number of eligible patients for stage 1b in your practice and to estimate the number of patients eligible not currently at your practice. These numbers will allow us to understand if the COVID-19 vaccine makes sense at our practice.
Through COVID-19, our customers have seen a slight reduction in their chronic disease management billings. This was due to those patients with a chronic disease not travelling in the community due to community transition fears.
When the practice gets busy while administering the COVID-19 vaccine. It will be important to ensure those patients who have a chronic disease are still coming in to the practice.
Cubiko has a several metrics that can help practices reach out to regular patients.
Work with your peers, not against them
During this unprecedented time, it is important to work with your peers. 
Does it make sense for two local practices near each other with an overlapping patient cohort to both do vaccines? Will they both then also do flu vaccines? Let's not forget those are also coming out. 
It makes great business sense from an operational point of view to have discussions with your peers. See if you can specialise, coordinate and deliver better care for the community together.
Book a demo today to learn more about how Cubiko can help you roll out the COVID-19 vaccine
Trusted, reliable, loved by practices
Hear what your colleagues in the industry have to say
It's fast, it is accurate and it provides information that is relevant and useful in day-to-day managing of clinics.
Margo Hayes
Practice Manager at MoleChex
With Cubiko Assist's featured metric, we were able to find an additional $7,000 in billings which we otherwise may not have been aware was available.
Michelle Chuang
Practice manager at Sydney Doctors
Cubiko has freed up my time to actually act and engage with my clinicians and staff with objective evidence in hand and focused strategies in mind.
Greg Davies
CEO Shoalhaven Family Medical Centres
Cubiko provides awesome data and analytics for GP clinics from a proactive and agile team.
Dr Sean Stevens
Practice Owner at Next Practice Victoria Park
Never before has it been more important to get a full picture of your practice. Cubiko and Surgical Partners take care of all the financial metrics crucial for our practice. This allows us to focus more on patient care without having to stress over the financials.
Tracey Johnson
CEO Inala Primary Care
Over the years I have loved using both Cubiko and Surgical Partners. To have them partner together to drive financial and practice insights for my practice on a single platform will save me a lot of time and be incredibly rewarding.
Tara Welsh
Practice Manager at CHC Medical