The essential KPI's you should be tracking within your Medical Practice
A Key Performance Indicator (KPI) is a measurable value used to track how your practice is achieving its key business objectives. The use of your practice's data leads to a greater understanding of your practice's overall position. By identifying areas of improvement and making evidence-based decisions. Using data in your decision making is the definition of a data-empowered practice. 
How do I know what KPI's I should have?
Every general practice is different and has varying goals and priorities. To determine what KPIs you'd like to measure, you need to understand your overall business goals. Is your goal to become a more financially sustainable practice? Improve efficiencies? Grow your patient cohort? Sell your practice in the future? 
What KPI's should I be measuring?
Your KPI's should reflect your practice's individual business goals and priorities. There's no right or wrong answer to what KPIs you should be using to measure the success of your practice. But they need to be clear, focused, relevant and measurable for you to assess over time.    
Below is a list of KPI's we think are important for General Practices to measure: 
Diary Utilisation (for Doctors and Nurses)

 

Billings per hour

 

CDM Growth

 

The ratio of Doctors to Nurses and Doctors to Reception

 

Online Bookings vs conventional bookings

 

Room utilisation

 

Bulk-billing rate

 

Patients wait time

 

Debt levels and rejections

 

Recalls and reminders

 

Patient cohort growth

 

Cost of each patient (in terms of marketing)

 

Appointment mix/doctor workload

 
Keep reading for an in-depth look into how to measure these KPI's and how Cubiko can help you measure your practice's performance. 
1. Diary Utilisation (for Doctors and Nurses)
Take a look into the diary utilisation of your doctors and nurses. Diary utilisation is the percentage of time a practitioner is spending with patients. In looking at your diaries in your practice management system, add up the total hours available to see patients (e.g. Session hours). Then add up the total hours spent with appointments and break these hours down to patient –facing appointments which includes telehealth and telephone consults. Next, add together the hours of non-patient-facing appointments such as admin time and staff meetings. Of your total available time (session hours), how many hours are spent booked in with appointments (patient-facing & non-patient-facing) and finally how many hours are spent booked in just with patients? This will give you actionable insights into these metrics to improve on. 
The above calculations can be quite a manual effort which is why Cubiko integrates with your practice management software. The product visually identifies how your staff's diary is being utilised. Filter your data to visually see graphs and figures detailing your booking utilisation or consulting utilisation. Higher numbers indicate that your team is more heavily booked. However, some roles like nursing may complete non-patient-consulting work so will ordinarily have more unbooked time to ensure support tasks are completed. The clinic utilisation metric provides you with a trend graph to show you how the trends for booking utilisation and consulting utilisation have changed over time.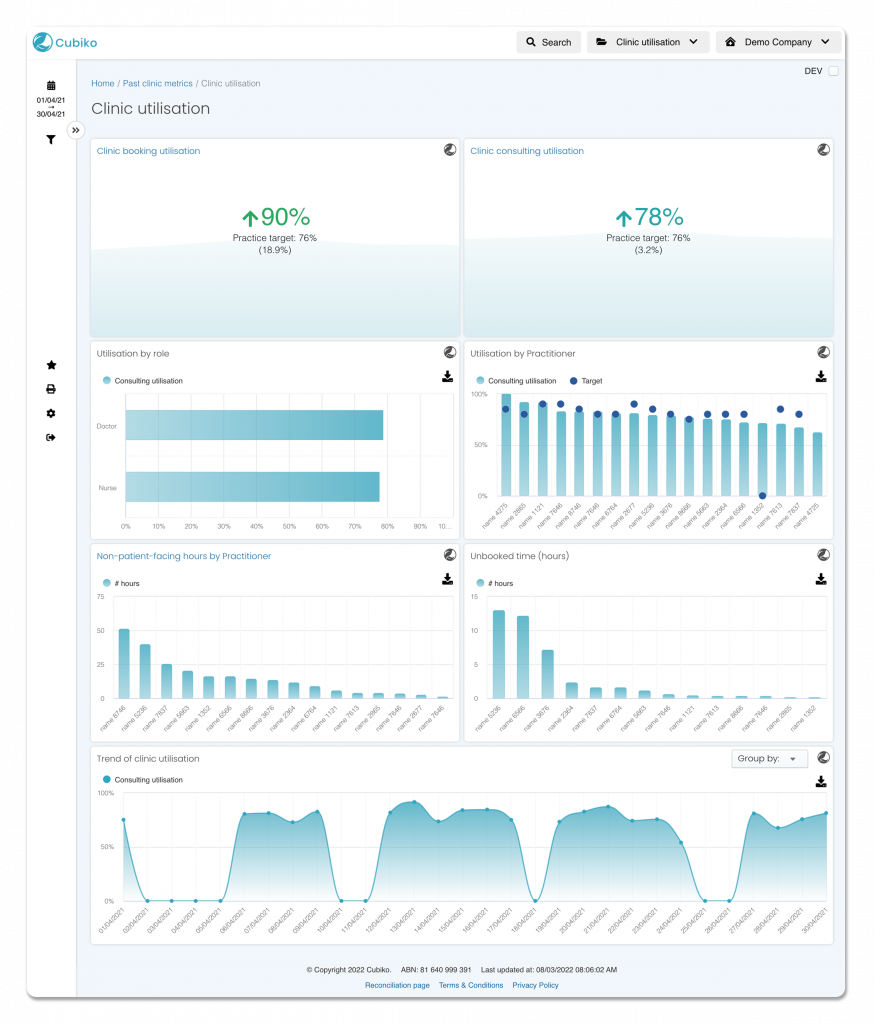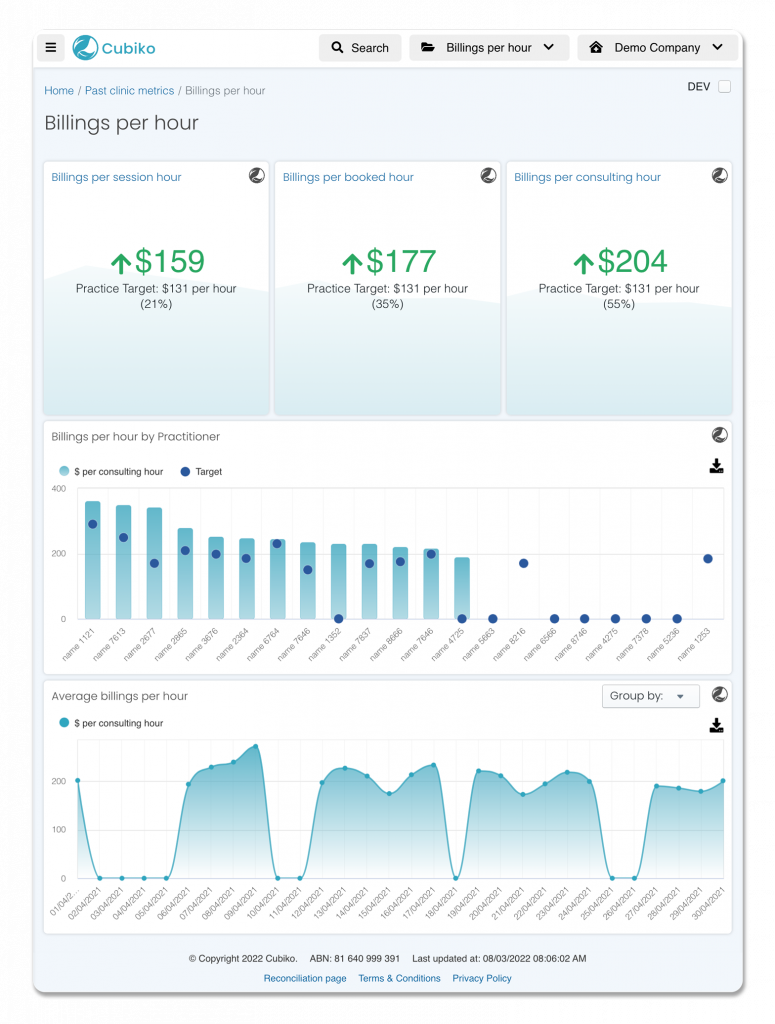 Ensuring that your practice is profitable is essential for its longevity. Tracking your practice's performance against its target is important. 
Billings per hour can be a simple calculation. Look at the total consulting time for a particular practitioner and their total billings over a given period.  
Cubiko calculates the billings per consulting hour (inclusive of GST), billings per booked hour, and billings per session hour. The figures represent all patient-facing appointment slots that were completed, billed, paid and booked. It excludes DNAs and double-booked appointments. In Cubiko you can set targets and KPIs across the different metrics as needed.  
Many clinics are embracing billings per hour instead of billings per appointment. With the modern complexity of General Practice, a question to ask is what is a standard appointment? I know in my practice we have short appointments for scripts and longer appointments for care plans. Therefore, it is difficult to compare across a practice the billing per appointment because at the end of the day, how long is an appointment? 
Looking to increase your total billings but not sure how? We'd recommend looking into what your CDM billings are as a percent of your total billings. Does it seem a little low?  
 Implementing a chronic disease management program in your practice is beneficial to patient care and increasing billings. Want to increase your CDM billings but unsure where to start?  
Cubiko's item optimisation cabinet provides insight into the possible value of billings that could be made from patients who may be eligible to claim CDM item numbers. To name a few this includes 721, 723 or 10997. Which item numbers are included as CDM billings varies between practices.  Data is meaningful when it links to action. In Cubiko, the nursing and administration team can use this data to increase billings and help them deliver outstanding patient care. They do this by contacting patients and tracking when they are potentially eligible for certain item numbers. Increasing the nurse's involvement with patients with chronic diseases can increase your CDM billings and help you to continue providing quality patient care.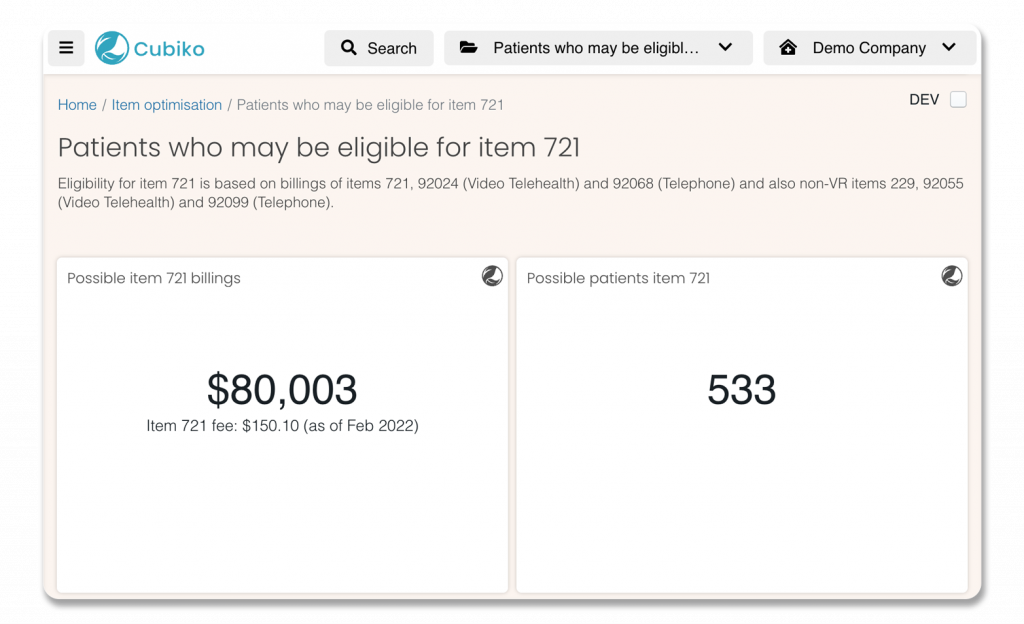 4. The Ratio of Doctors to Nurses and Doctors to Reception
Your staff are the most important asset to your practice. They provide the services required for the amazing patient care you provide to your community. Gain insight into how your doctor to nurse and doctor to reception ratios are looking.  

Doctor to Nurse Ratio
Measuring your doctor to nurse ratio is crucial from a care standpoint and profitability. Keep in mind the ratio is completely dependent on how your practice operates and differs between practices. Does your practice do a lot of flu or COVID-19 vaccinations? Do you run a nurse-led CDM program in your practice? Leading to you having a higher ratio. Understanding your doctor to nurse ratio is important with regards to the cost of operating your practice. The numbers must be in line to ensure the continued profitability of your practice. Just note that there is no 'magic' doctor to nurse ratio. The ratio is depended on what your practice needs to operate efficiently. Speak to your trusted advisor to help you make the most of your data to make important operating decisions for you and your practice.  

Doctor to Reception Ratio
Similar to doctor to nurse ratio, this relates to costs. Cubiko has metrics that give insight into a patient service and cost point of view. We provide the data to help you gain an understanding of what these ratios look like for your practice. The number of receptionists you have on staff may correlate to many different factors, including: 
The technologies used – such as patient kiosks or patient forms.

 

The propensity of patients that book online versus over the phone.

 

Percentage of patients that book on the day, and whether that is online or over the phone.

 

The skill level of your receptionists

 

Patients wait time – the amount of time spent in the waiting room

 

Patient services you wish to provide

 

Processes you have set up for your reception team. Are any always available to speak to patients on the whole while others are always available in your reception area to talk to patients?

 
Cubiko provides a breakdown of the total hours worked by your doctors and reception staff over a period of time. The trend graph provided gives insight into how the ratio of doctors to receptionists has changed over time.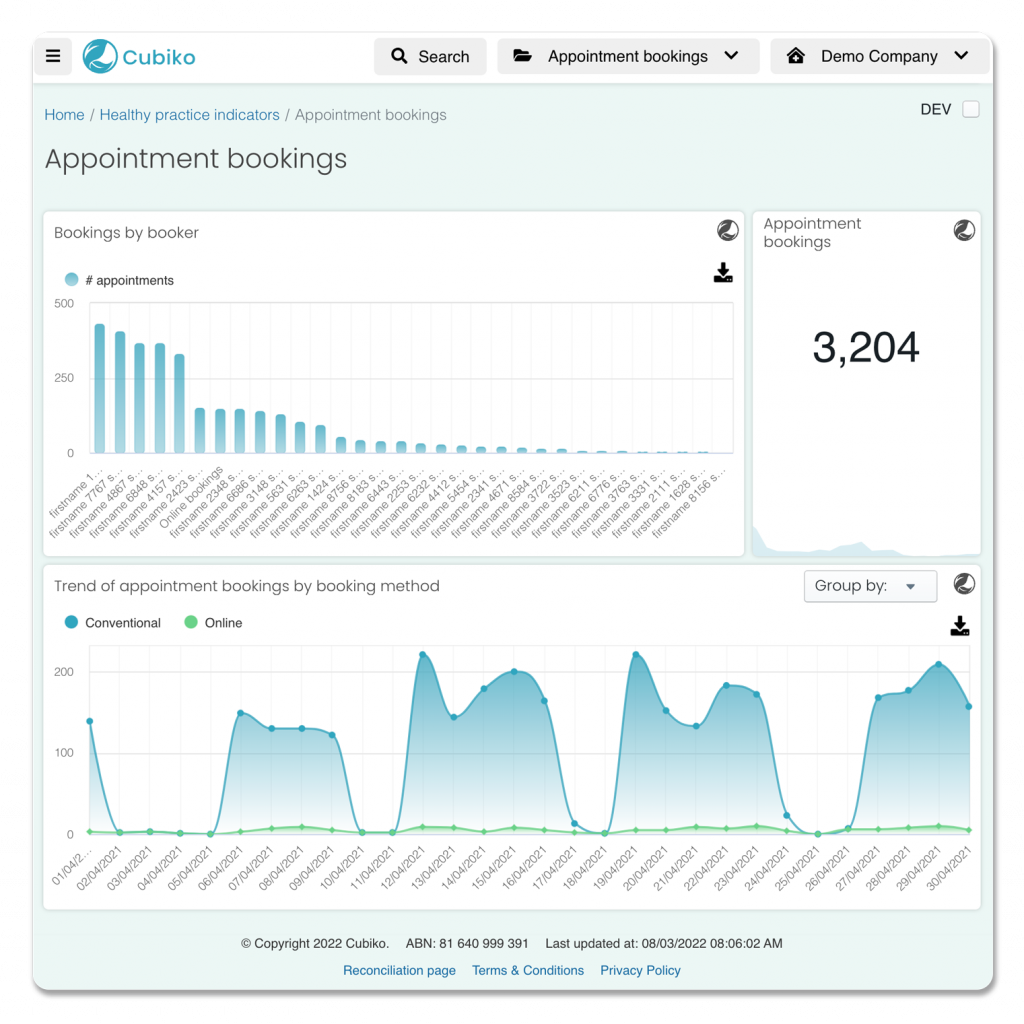 5. Online bookings vs conventional bookings
Gain an understanding of how appointments at your practice are being booked. See if your patients are booking more appointments online, or if they're still conventionally booking appointments through your reception team or doctors. 
Cubiko breaks down your data by booker to give insight into how your bookings are made. Plus see a trend of your bookings categorised into conventional and online bookings. Many practices are using this to balance who is booking appointments over their reception team. 
Gain insight into how rooms in your practice are being utilised.  At the end of each day your reception team could manually perform the following tasks to measure your room utilisation: 
Go through your doctors' 

diaries

 

See which rooms were being used for 

their appointments

 

Manually calculate the hours spen

t

 consulting in each room across the 

practice

 

Then the divide the hours spent consulting in that room, by the hours the practice was open

 
Tracking your practice's room utilisation can be a tedious task for your reception. This is why we've developed an automated way to measure room utilisation with Cubiko.  
Cubiko's room utilisation metric gives insight into the proportion of available time that has been booked for all rooms in your practice. Higher numbers indicate that rooms are more frequently used. This gives insight into how your space is being utilised by practitioners.  
Say you're looking at renovating your practice for expansion, or potentially relocating to a bigger space. This valuable information can be used to determine if your current setup is being adequately used and if renovations or relocations are reasonable options.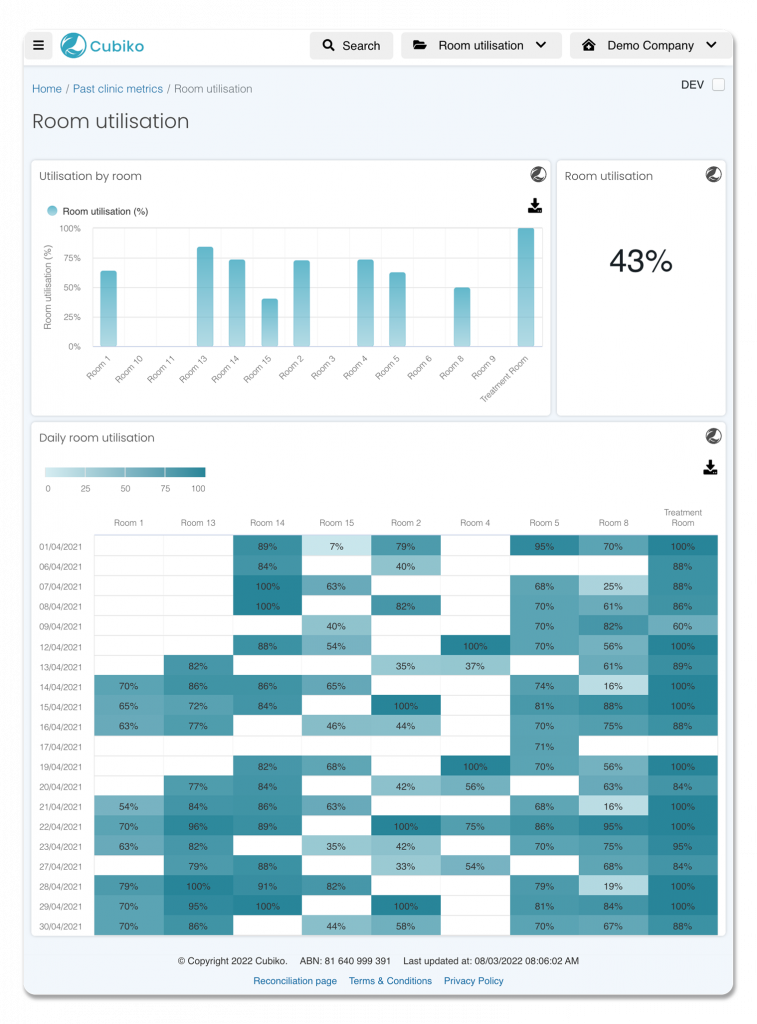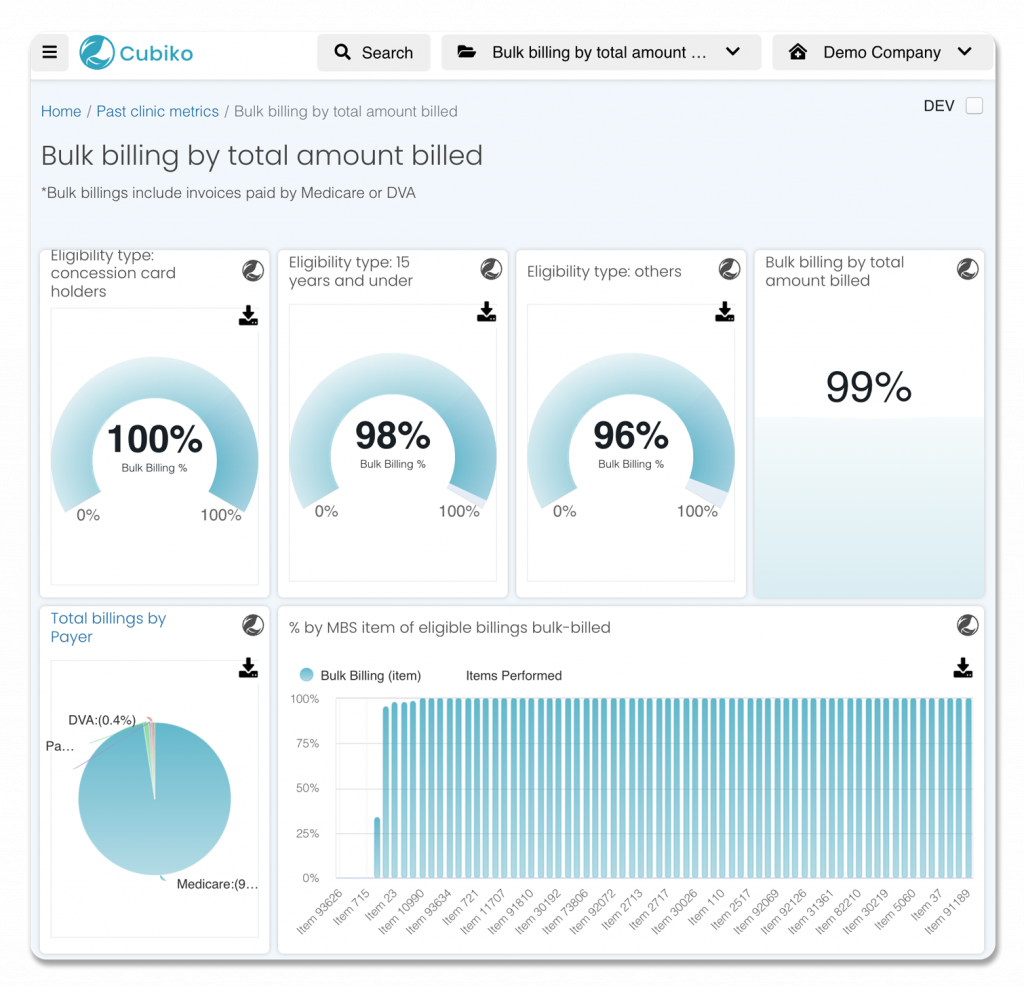 Running a mixed or private billing practice? Understanding your bulk-billing rate is crucial to determine your current performance and how you can work towards a better business strategy.  
The bulk-billing eligibility type is a reflection of your patient cohort. Break down your bulk-billing amounts by the type of patient that was bulk-billed. Whether that patient: 
Has a concession card

 

Is 15 years and younger

 

Is none of the above

 
Looking at these three eligibility types for bulk-billing percentage allows you to prevent bias in your bulk-billing data. For instance, a practitioner may see a disproportionate number of children, and therefore seem to have a higher bulk-billing percentage. Whereas, they're seeing 15 years and under and therefore will continue to bulk-bill them. 
Cubiko has developed metrics to help you determine your bulk-billing by the total amount billed. This allows you to filter your data by: 
 bulk billing eligibility type

 

bulk billing by total amount billed

 

Percentage by a practitioner of eligible bilking bulk billed

 
Also, see your practice's bulk billing trends and % by MBS item of eligible billing bulk billed. This provides insight to help you determine if items that are not meant to be bulk billed are and which practitioners or patients have the highest bulk-billing rate.  
Want to understand more about how Cubiko helps your measure KPI's? Book in for an online demonstration.
Prolonged wait times are often a source of frustration for patients, doctors and staff. Shorter patient wait time leads to improved patient experience, staff satisfaction and the ability to see more patients.  
Cubiko measures the time your patients had to wait at reception before seeing a practitioner. You can filter this metric by role, practitioner and over a selected timeframe. This data provides insight into which role or practitioner tends to have longer wait times and why this may be. Some practitioners may need to review their scheduling or reasons as to why they're frequently behind schedule.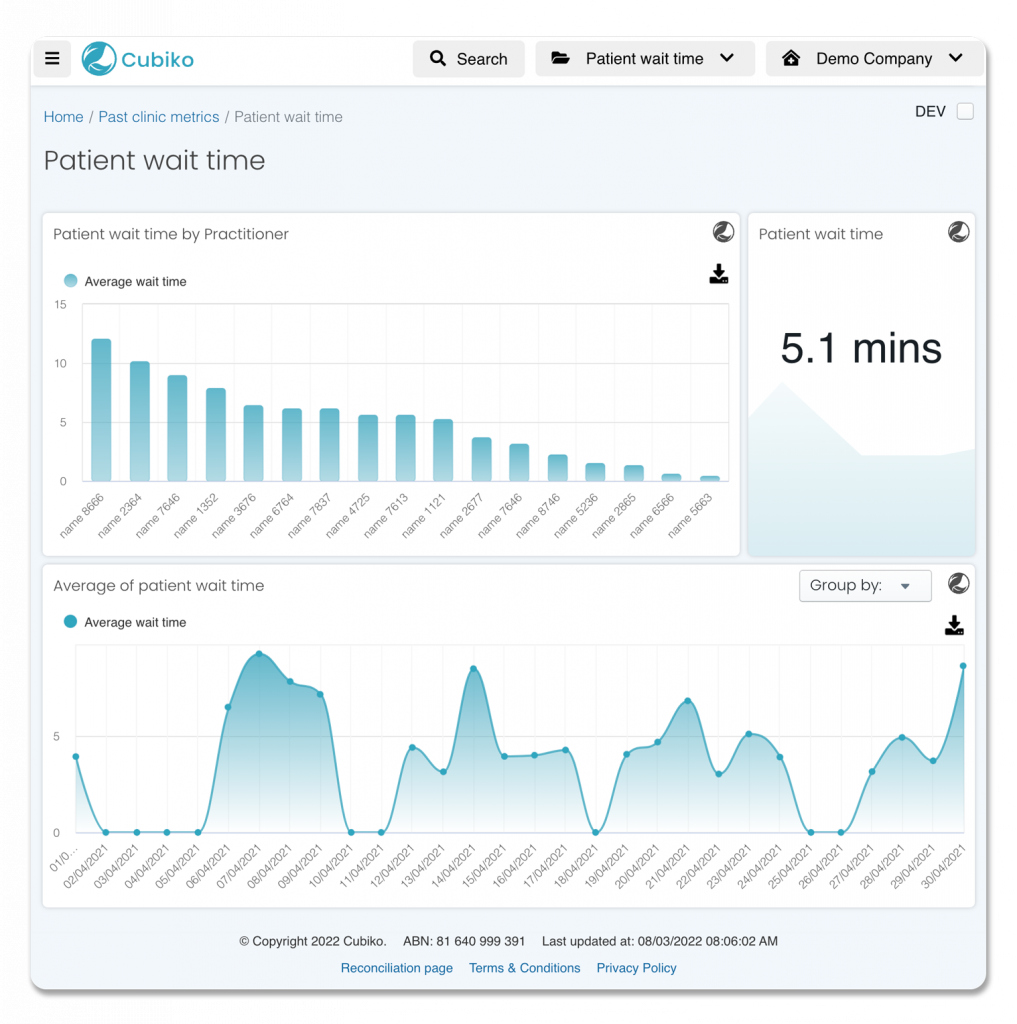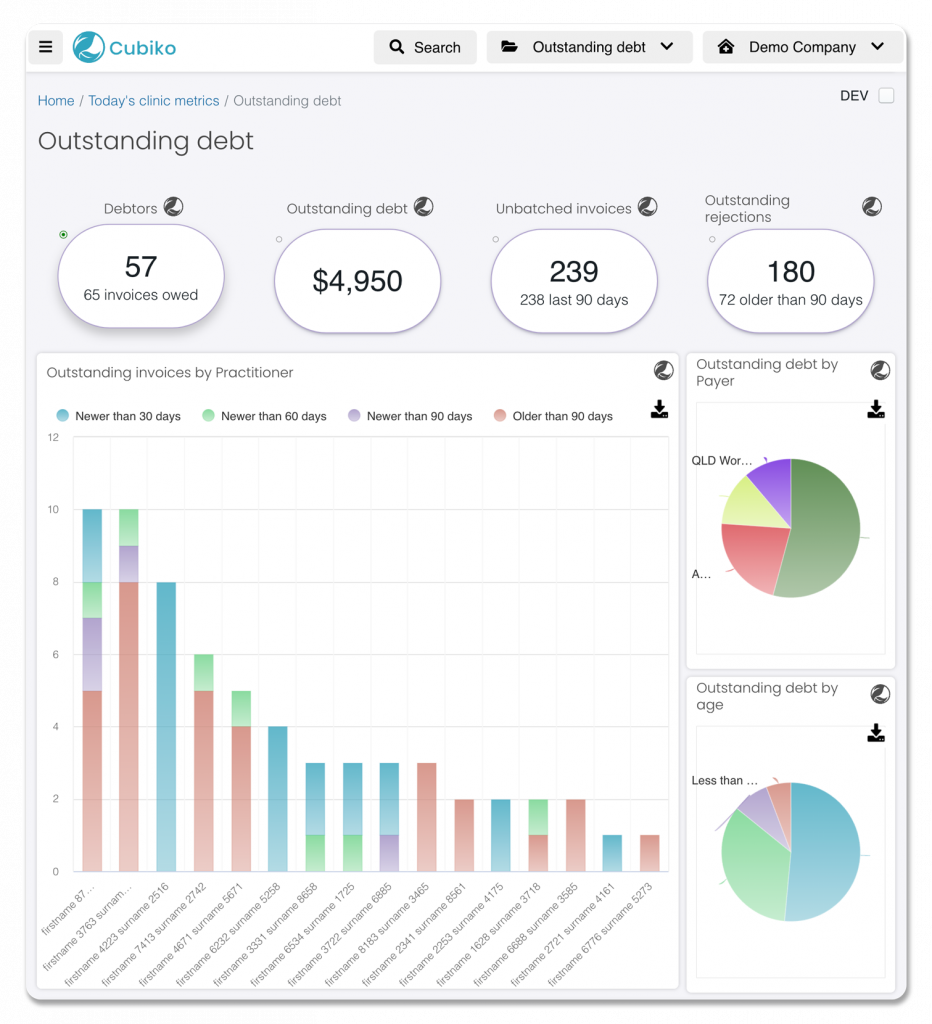 9. Debt levels & rejections
Cash flow is important for any business. Monitoring and actioning your debtors, rejections and batched invoices are imperative for a healthy practice and healthy cash flow. It can be time–consuming to visit all the places in your PMS where this is tracked.  
Cubiko provides insights into any unpaid patient invoices. We provide a list that shows account holders, patient and invoice details of any invoices that have an unpaid service that is not billed to Medicare/DVA. Use this list to follow up with the payer.  Also, gain insight into how many outstanding Medicare and DVA rejections your practice currently has. Cubiko provides you with a list of these invoices, services and the associated reason code.  
10. Recalls and reminders
Recalling patients to book in for appointments to receive test results? Or simply sending out reminders to patients to book them in for an appointment for a service that their doctor has flagged them for, such as health assessments, repeat x-ray, blood tests or immunisations?   
Cubiko provides insight into the number of overdue reminders and patients that have an urgent and non-urgent recall and are not marked as contacted. Using your data Cubiko generates a list of all these patients and their details for your reception staff to contact to book in for appointments. Utilise the recall list to book appointments with these patients during traditionally slow periods in your practice.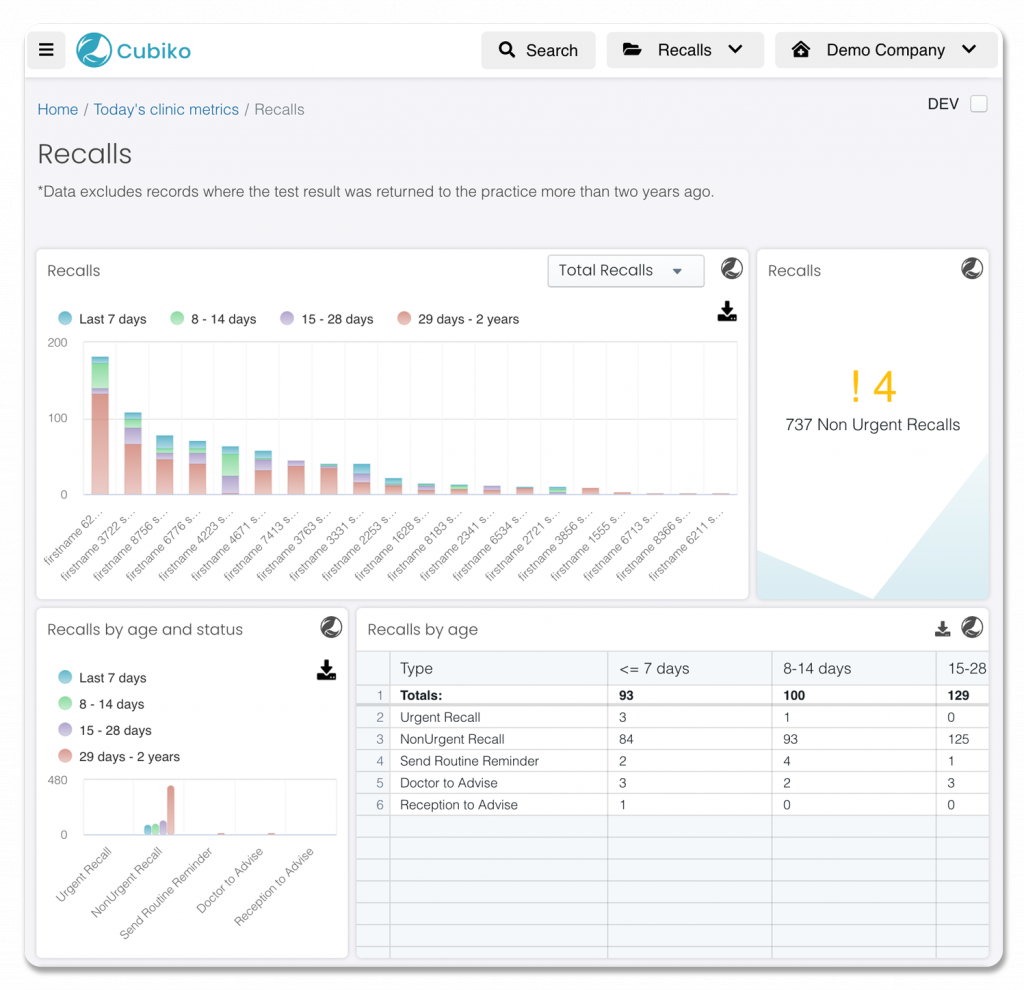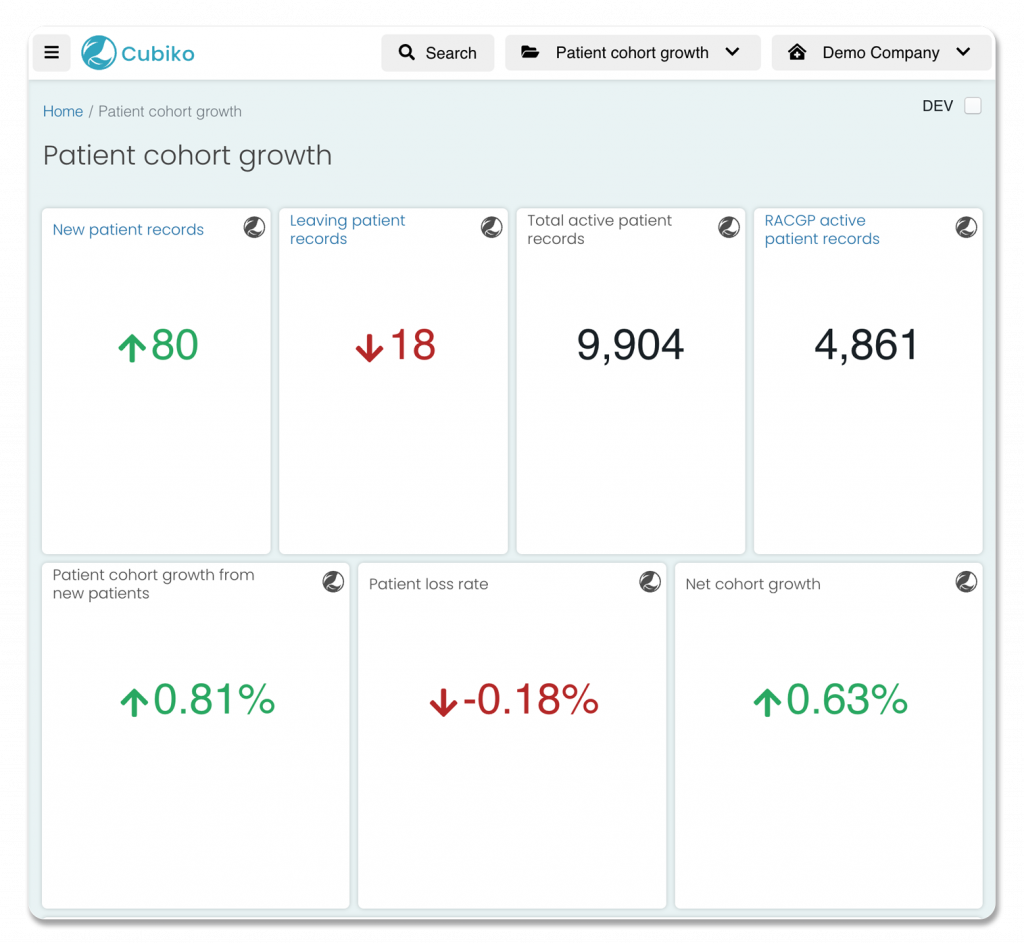 11. Patient cohort growth
Gain insight into how your patient database has changed over time. As practice managers or practice owners it is important to track new patient acquisitions, the number of patients leaving and the overall patient growth within the practice. Cubiko shows this and more. Use this information to understand the viability of your practice, encourage new GPs to come onboard, track marketing strategies, and for new clinics to see their growth.
12. Cost of each patient (in terms of marketing)
Patients are essential for your practice's growth and profitability. Marketing plays a large role in communicating with current and new patients. May it be through investing in a new website, paid social media advertisements, SMS campaigns or new and improved signage.

With our Xero integration, we break down the financial insights that Cubiko and Xero provide. Included in this is a breakdown of your expense reporting. Use this data to measure the Return on Investment (ROI) of your marketing spend, by seeing how many new patients you had during your selected period. Then analyse your average billing per patient to find the ROI of your marketing spend.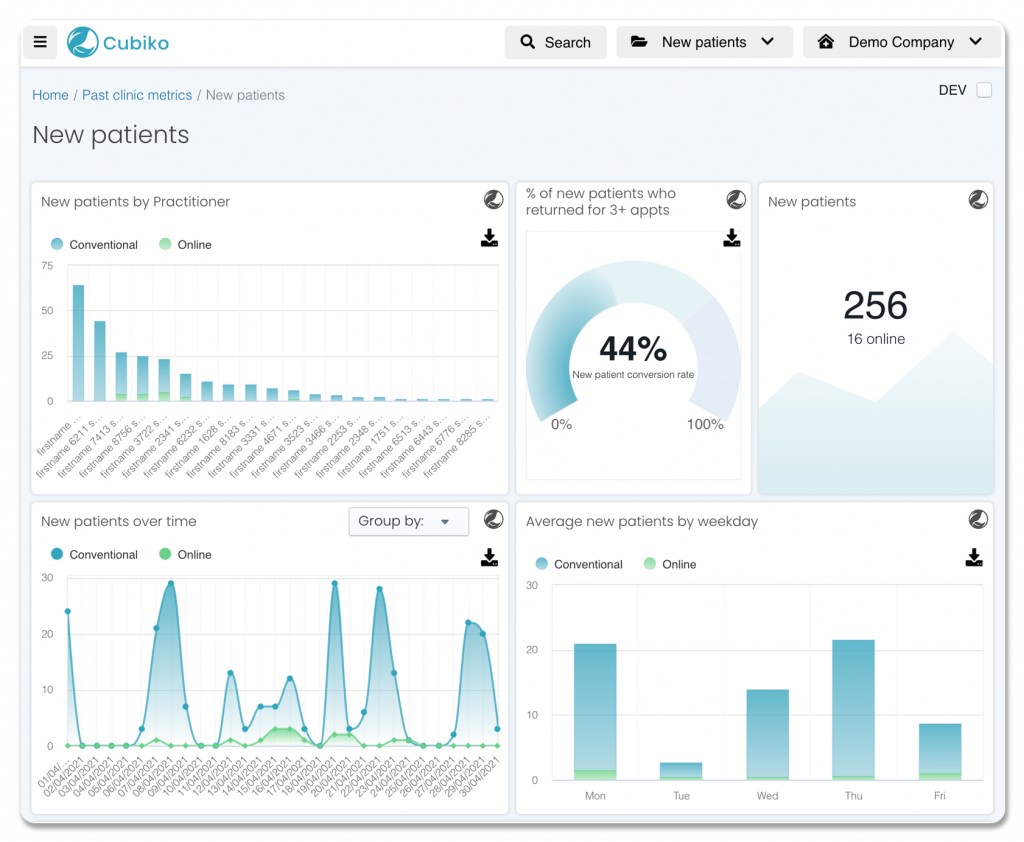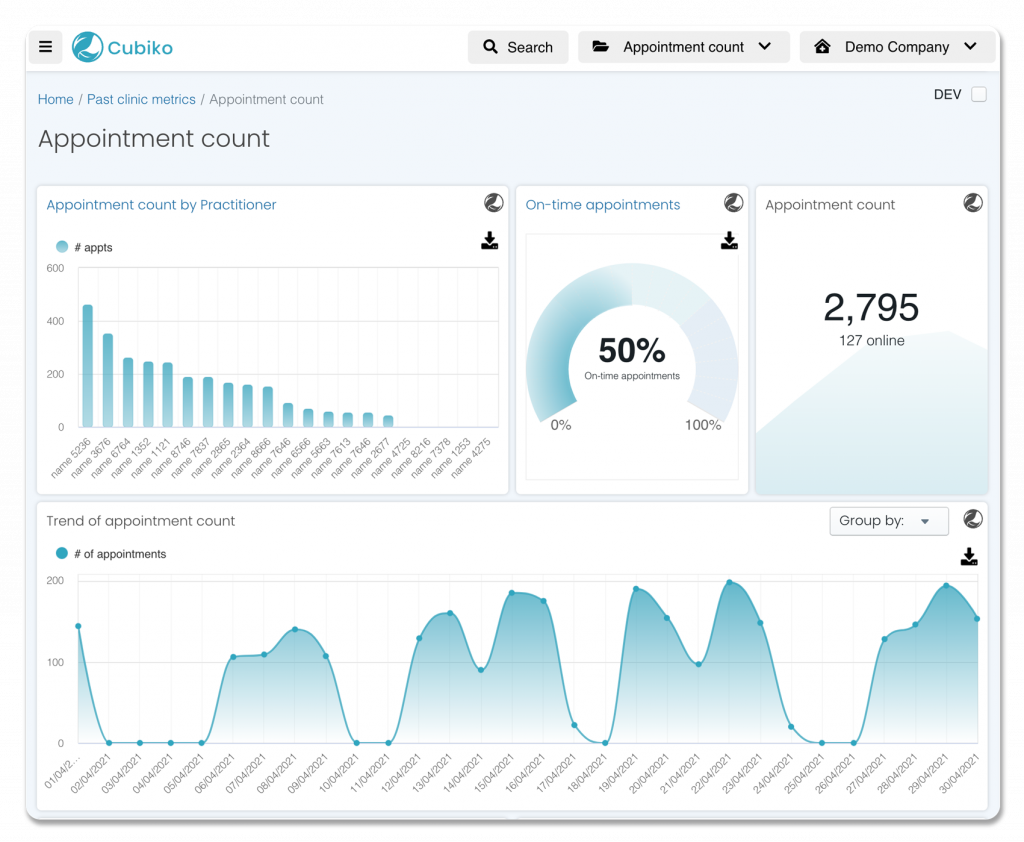 13. Appointment mix / doctor workload
How are you assessing the types of appointments (long, short, recalls or CDM) your providers are doing? Looking to gain insight into your doctors' workload; how on schedule your doctors are; and see appointment trends within your practice?  
Cubiko's appointment count metric gives an overview of the number of completed, invoiced or paid appointments by practitioners for any selected period. It gives insight into the types of appointments your doctors have schedules and measures how on time they run for appointments. Get an understanding of appointment trends within your practice in an easy-to-read trend line.  
14. The return rate of patients
As a business, it is important to measure how many new patients attend your clinic. New patients are the lifeblood of practice growth. With every new patient check after a set period how many appointments they've since had at your practice. We recommend measuring how many new patients return for three or more visits.  
The percentage of patients that return for three or more visits is your conversion of new patients to regular patients of your practice. You can look at it over a longer period, such as a year to get an understanding of your practice. This metric is a reflection of the amazing service you provide to your practice and the exceptional care provided to your patients. 
Gain insight into the return rate of patients within your practice. Cubiko's past clinic metrics shed light on the total number of patients whose first appointment fell within the selected period. Learn what percentage of patients have become regular patients, returning for a total of three or more appointments.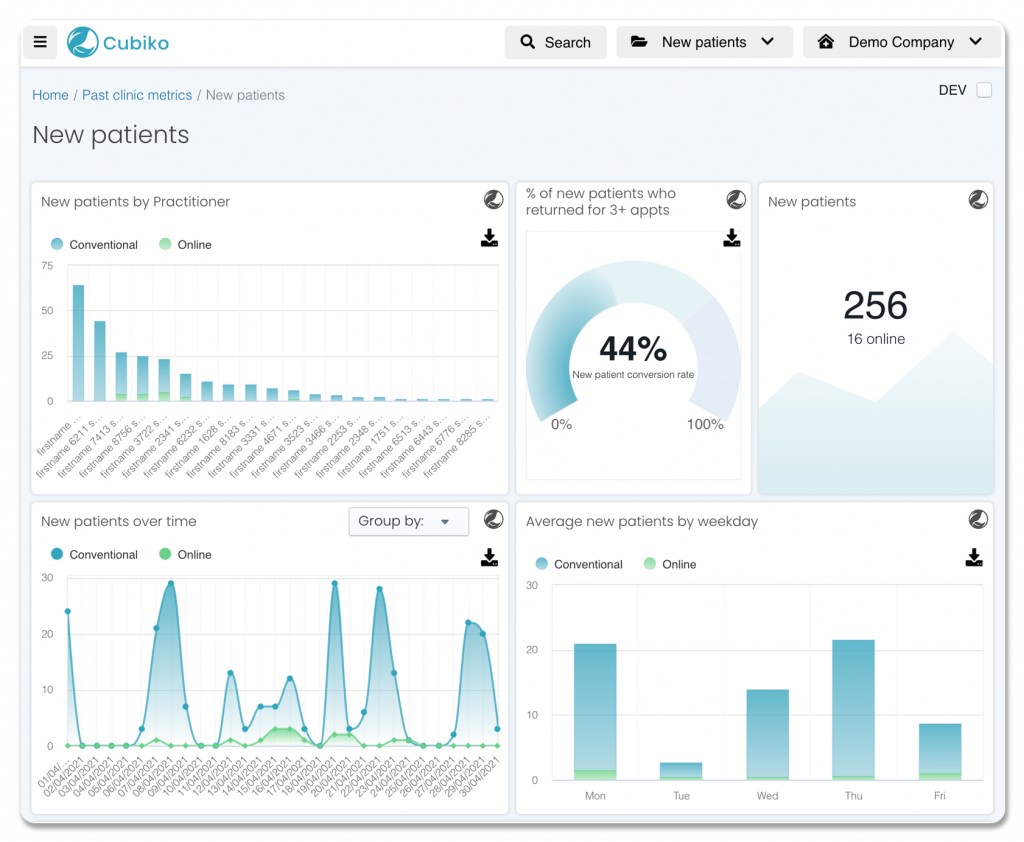 Interested in learning more about how Cubiko can help you measure your KPIs? Book in for a demo today to find out how.  
Trusted, reliable, loved by practices
Hear what your colleagues in the industry have to say
It's fast, it is accurate and it provides information that is relevant and useful in day-to-day managing of clinics.
Margo Hayes
Practice Manager at MoleChex
With Cubiko Assist's featured metric, we were able to find an additional $7,000 in billings which we otherwise may not have been aware was available.
Michelle Chuang
Practice manager at Sydney Doctors
Cubiko has freed up my time to actually act and engage with my clinicians and staff with objective evidence in hand and focused strategies in mind.
Greg Davies
CEO Shoalhaven Family Medical Centres
Cubiko provides awesome data and analytics for GP clinics from a proactive and agile team.
Dr Sean Stevens
Practice Owner at Next Practice Victoria Park
Never before has it been more important to get a full picture of your practice. Cubiko and Surgical Partners take care of all the financial metrics crucial for our practice. This allows us to focus more on patient care without having to stress over the financials.
Tracey Johnson
CEO Inala Primary Care
Over the years I have loved using both Cubiko and Surgical Partners. To have them partner together to drive financial and practice insights for my practice on a single platform will save me a lot of time and be incredibly rewarding.
Tara Welsh
Practice Manager at CHC Medical